| | |
| --- | --- |
| | This article contains information on a character, area, item, or quest that has changed in the latest version of Part One as of v1.50. It has not been updated to reflect the changes. |

Betancuria West is one of three sections of the city of Betancuria. It has a number of Dhorn buildings and a few residences. Notable structures include the Arena, the Dhorn Administration building, and the Dhorn Headquarters. The main areas of interest are 23, Knight Street (for Lesson 5), the Arena, and the Ruined House. A number of other areas, such as 19, Knight Street, Tald's Tavern, and 5, Queen's Road, are used or made accessible depending on the Princess' decisions. Betancuria West borders with North.
Unlike many shops, Tald's Tavern is always open.
The Arena is only open between certain times on select days. Check the sign at the entrance.
The previous version of Betancuria West found in v1.30 and earlier can be viewed here. (do not edit)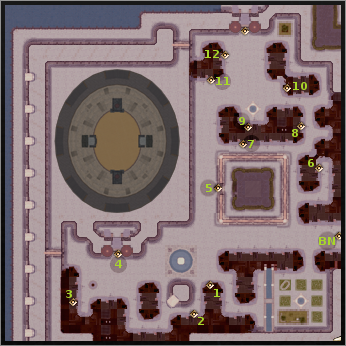 Key
Numbered
Undocumented
Ad blocker interference detected!
Wikia is a free-to-use site that makes money from advertising. We have a modified experience for viewers using ad blockers

Wikia is not accessible if you've made further modifications. Remove the custom ad blocker rule(s) and the page will load as expected.