Delberg Castle is located in Delberg and is home to the Earl. The ground floor has a few bedrooms, a small library, the kitchens, the stables, and a fountain house in the courtyard. There is a wine cellar near the library on the ground floor. The upper floor has the majority of the sleeping quarters, including the Earl's rooms. There is also a large room used for banquets and other festivities.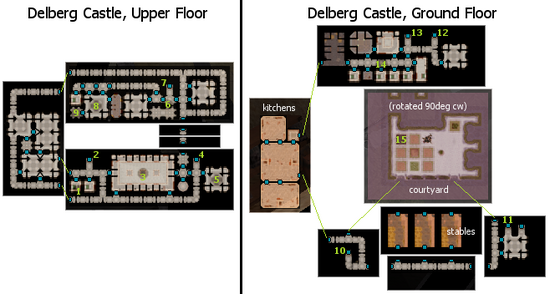 The Princess' room
Stairs down to #10
Ballroom
Stairs down to #11
Lady Mona Waldner (and two male guards)
Thell Bennard (and Adela Cain)
Stairs down to #12
The Earl's room
The Earl's closet and hidden trap door
Stairs up to #2
Stairs up to #4
Stairs down to #7
Stairs down to wine cellar
Ventin Thensbannald's room
The fountain house
Walkthrough
Edit
Ad blocker interference detected!
Wikia is a free-to-use site that makes money from advertising. We have a modified experience for viewers using ad blockers

Wikia is not accessible if you've made further modifications. Remove the custom ad blocker rule(s) and the page will load as expected.