The Dhorn Barracks are located in Betancuria North and house most of the Dhorn soldiers in Betancuria. The barracks are used during Mando Halley's Know Your Enemies quest.
Spoiler: Chests in the Payroll Office contain a total of 45,000GP.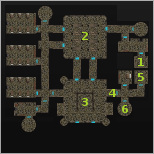 Trap door (to sewers below 18, Temple Street)
Mess hall
Main entrance
Door to offices
Personnel Office
Payroll Office
Ad blocker interference detected!
Wikia is a free-to-use site that makes money from advertising. We have a modified experience for viewers using ad blockers

Wikia is not accessible if you've made further modifications. Remove the custom ad blocker rule(s) and the page will load as expected.