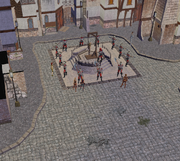 The Dhorn Justice quest begins when you speak with the bystanders around the hangman in the town square.
Note: No journal entry is made until it has been resolved.
The following entries are possible:
The Dhorn were about to hang an old man at Westwood. I decided to interfere! I hope the old man is safe now.
The Dhorn killed an old man in Westwood for writing something on the door of a local shop. I couldn't save him.
Walkthrough
Edit
  
WARNING
Spoilers follow.
  
As you venture further into Westwood, you'll see a crowd gathered around an old man who is about to be hanged. When you speak with one of the bystanders, it'll be made known that his offense was writing "Do not buy from Dhorn" on a nearby shop when a Dhorn patrol caught him. It's possible to save the old man by picking the report from the hangman while waiting for the Judge to show up. You should be out of sight before entering into stealth mode.
Ad blocker interference detected!
Wikia is a free-to-use site that makes money from advertising. We have a modified experience for viewers using ad blockers

Wikia is not accessible if you've made further modifications. Remove the custom ad blocker rule(s) and the page will load as expected.