| | |
| --- | --- |
| | The following contains information on a character, area, item, or quest that is no longer present in the latest version of Part One as of v1.50. |

The Icy Caverns are found within the Mountains of Frost, and lead to Hovazz' Lair. Beyond the caverns, through a number of secret passages, is the face of the Mountain and the road leading to Ravenstown. A few Ice Beetles and an Orc encampment can be found here.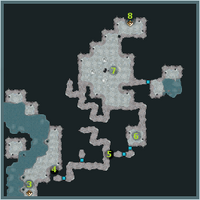 Further into the caverns (Glacier)
To #2
Hidden door
Hidden door
Orc Shaman and the cauldron
Orc camp
To the Mountains of Frost
Ad blocker interference detected!
Wikia is a free-to-use site that makes money from advertising. We have a modified experience for viewers using ad blockers

Wikia is not accessible if you've made further modifications. Remove the custom ad blocker rule(s) and the page will load as expected.