| | |
| --- | --- |
| | This article contains information on a character, area, item, or quest that has changed in the latest version of Part One as of v1.50. It has been updated to reflect the changes. |

The Mayor's Mansion is a three story residence located on the Isle of Men in Betancuria South. It is used during Mando's Mayor's Mansion quest. There are a few smaller bedrooms on the ground level, but the majority are located on the upper level. A small pool can be found on the lower level and a tower above the upper level.
The mansion appears to have had a cellar at one point, but it is no longer accessible.
Ground Level
Edit
Upper Level
Edit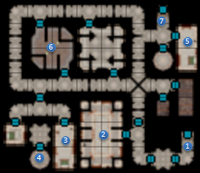 To the Ground Level
Mayor's Office
Mayor's Bedroom
Sander Gregory's cell
Guest bedroom, where Dhorn general & Evana are
Library
To the Tower

Window
To Upper Level
Ad blocker interference detected!
Wikia is a free-to-use site that makes money from advertising. We have a modified experience for viewers using ad blockers

Wikia is not accessible if you've made further modifications. Remove the custom ad blocker rule(s) and the page will load as expected.