The Wilderness surrounds the northern road from Betancuria to Sargoza. It is mostly covered by forest, which is home to wild animals like bears and wolves. Also bandits and goblinoid tribes can be encountered in the area. It is patrolled by rangers of the Betancuria Ranger Guild located in Betancuria South.
The Wilderness is crossed by the Great River, which also runs through Betancuria. In the Wilderness are located the Wilderness Castle and an old druidic Barrow.
The Princess is brought to the Wilderness during Lesson 7 by Frank Kelten.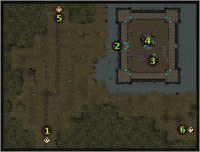 Road
Castle Gate
Road North
Wilderness (to Barrows)
Ad blocker interference detected!
Wikia is a free-to-use site that makes money from advertising. We have a modified experience for viewers using ad blockers

Wikia is not accessible if you've made further modifications. Remove the custom ad blocker rule(s) and the page will load as expected.